Halime Özdemir studied for her Foundation and BA (Hons) Drawing at Camberwell College of Arts.
An international visual arts producer, Halime is the founder of Producer 360°, an acclaimed international cultural production service based in London, delivering projects and collaborations across art, culture, film and tech. With a particular focus on audience engagement and technical know-how, Halime has managed projects for the likes of Elephant Magazine, La Ira de Dios, cheLA: Centro Hipermediático Experimental Latinoamericano (Argentina), Frieze, the British Museum, Royal Academy of Arts, White Cube, Istanbul Biennial. Halime has also been the Project Manager for the prestigious Bagri Foundation in London; Performance Producer for British-Ghanaian artist Adelaide Damoah, and Exhibition Producer for New York-based artist duo, Kuzma Vostrikov and Ajuan Song for their debut UK solo exhibition, 'Absolutely Augmented Reality'.
Find out more about the Alumni of Colour Association on our website
What made you want to study at Camberwell?
I was the first in my London based (Cypriot) family to go to University to study within the visual arts, and so I hadn't really considered it before - I didn't think that far ahead. I was still toying with the idea of studying music production as my major, because of my musical background at the time, as well the influence of family in Turkey having largely become accomplished, conservatoire trained musicians and academics in the field. However, it was my ALevel teacher that really encouraged me to think about it, so I applied for Camberwell (or the London Institute as it was then known). I was called in for a portfolio viewing and was offered an unconditional place. I ended up taking a couple of years out due to my father's death, so after a two-year gap, I called up and asked if the offer was still open and they said yes!
Starting the Foundation year was nerve-racking as I didn't know what to expect, but I absolutely loved it! I was based at the Sumner Road campus in Peckham, it was a post-apocalyptic hub of creativity. During the course I explored different methods, I always thought I was a painter, but I'd never considered things like print-making and drawing, it turned out that I was really good at it and so I decided to carry on at Camberwell and do an Undergraduate degree in Drawing, accompanied by my chosen elective, Philosophy.
I loved the drawing course. It was really old school, my tutor would walk around with a stick in his hand watching us draw and would hit the paper if he wasn't happy with what we were drawing. But while I was there, the London Institute changed into Camberwell College of Arts, and after this transition it became very different and conceptual. Such an inspiration to see how the course has evolved.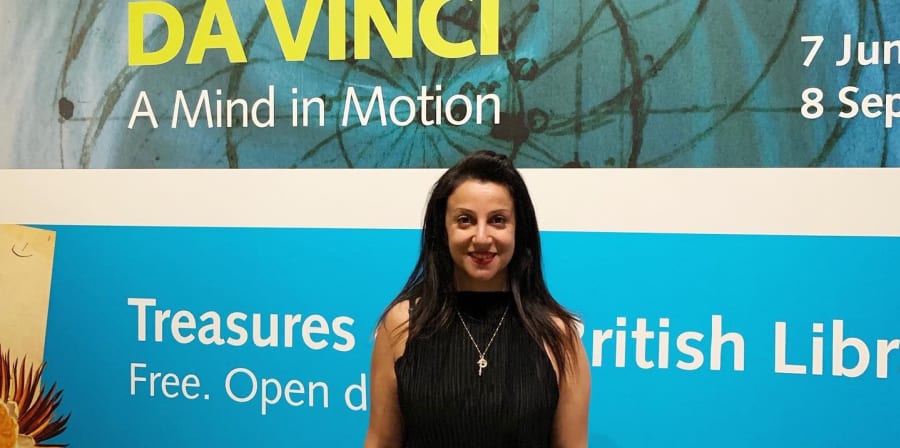 How did your time at Camberwell help you get to where you are today?
It was after the first year I realised that even though I was enjoying drawing, and I was really loving being at University and being creative, I found being more active with other artists and bringing together other artists more interesting.
I decided to do a work placement in Istanbul, a city that I'd never been to before, I wanted to learn about the Istanbul art scene so I proceeded to contact every single gallery you can think of to arrange meetings with people. Whenever I got the go-ahead to meet with someone I would book a ticket and fly over there. These decisions were not made lightly. Bearing in mind, I was a full-time student, I was working full time to support myself throughout my studies. I worked every weekend as a care worker for adults with learning disabilities for a south east London based charity as well as working every evening during the week as a bar supervisor at both the Camberwell and LCC student union bars.
Because I had UAL - a major UK Institution behind me, it gave me the confidence to reach out to these places in a complexly different country, with a language I didn't speak. I was able to sort out my work placement for three years ahead. I became an intern for the European city of culture 2010, I worked at the 10th International Istanbul Biennial curated by Hou Hanru. This was all because I knew that I had the University's backing and support - I identified the benefits of being associated with such an Institution to hustle my way in.
UAL is a fantastic resource. I would say to current and prospective students - use the facilities that you have, use the access to tutors and course directors. It's a strong identity for you to have and it gave me great confidence.
What made you want to get involved with the Alumni of Colour Association?
Since graduating I hadn't been in touch with the alumni team until I received an email last year showcasing the Alumni of Colour Association. I have always volunteered in the community, and culturally it made sense for me to be involved with the Alumni of Colour Association – I grew up in London in an African/Jamaican/Irish/Cypriot community. I knew I had the capacity to apply for the Head of Communications but needed to think carefully before committing to volunteering my time. In the end, I decided to go for it and here I am!
Since tapping into the UAL Alumni Association, I have realised that it's a fantastic platform to meet people, talk about what you're doing and collaborate. It's a melting pot – we are all creatives – why not find the synergies there and connect the dots.
The Committee is a fantastic platform to showcase talent and give a voice to its alumni – not just alumni who have recently graduated, but also those who have been working for a while and have loads of experience – we want to them to join and get involved too.