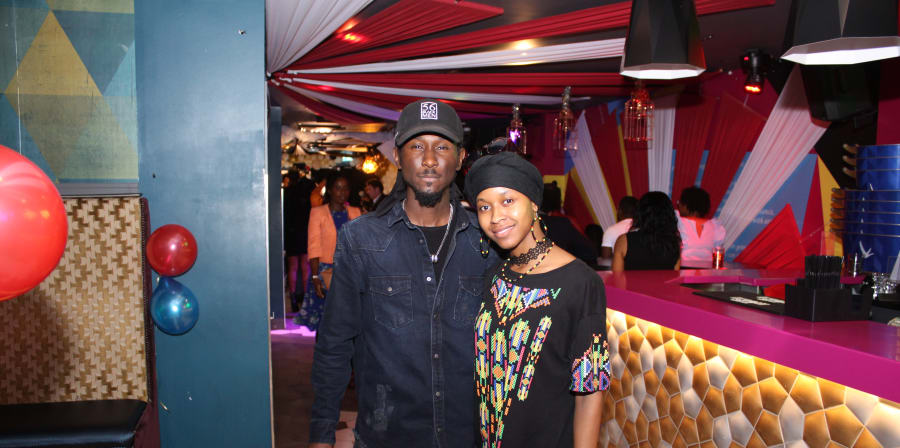 Jade Weir-Reid studied at London College of Communication from 2006 - 2009, completing degrees in both Art and Design and Graphic Design. Since graduating, Jade has gone on to work as a photographer, teacher and now has launched her own events company. Carib and Co Brunch. She is also involved with the UAL Alumni of Colour Association, and spoke about her journey at the last AOCA winter shocase event...
Tell us about your time at London College of Communication
I applied to London College of Communication (LCC) to study Foundation Art and Design and a Foundation Degree in Graphic Design. The important thing for me was to surround myself with like-minded people, and every student around me was a creative designer in their own unique and special way. To me, LCC was the college of culture and diversity, and seeing this every day was beautiful to the eye. I most certainly enjoyed my time at LCC - I have several best memories of LCC and I will list them in rank order below:
1. Picture this: five friends of colour, three of whom were dyslexic (one of the three was actually me), sitting around the LCC library table. Our late nights consisted of laughter, eating loads of food, bouncing amazing ideas back and forth and supporting each other during those crucial deadline periods. Being the last to leave, then finding ourselves back at the library... but this time at UAL Holborn trying finally to get our work to print, and then feeling so utterly amazingly proud at midnight when the work was completed and the library doors closed for the night.
2. Most evenings also consisted of knocking on the staff room door and asking for help. Being dyslexic, I found essay writing and comprehending information extremely challenging. I would often procrastinate and put off tasks, but I knew I had to face it eventually if I wanted to pass and do well. My lecturers, in particular David Sowerby, were always willing to help and support no matter the time of the day. He knew how to change my unhappy, confused and stressed face into a happy, smiling one with help and advice.
3. The LCC shop and library were always lifesavers - they had everything I wanted at the right time. The shop was very affordable for students too.
Tell us about what you have been doing since, and what you are up to now.
In 2011 I took an array of striking photographs. Determined to succeed, I volunteered as a photographer for African Fashion Week London 2011 which showcased the designs of African designers including Ninola and Eldimaa. This determination, coupled with my enthusiasm and talented photography skills, opened doors – my work was shown on the BBC Africa news site and in a variety of magazines and newspapers including Pride, Black Beauty, Afro Hair, The Voice and The Harrow Observer. After this I went on to be involved in London Fashion Week, Britain and Ireland's next Top model, The Calo Festival, Top Model of Colour and Fashion Finest. In 2013, Stanmore College added me to the AoC's new Hall of fame known as its Roll of Honour. Their vision is to see great colleges transforming lives and communities through teaching and learning for student success.
I am still working in the creative industry but now my time is spent giving back to young people as a Design and Technology teacher, teaching food, textiles and resistant materials to students age 11 to 16. Since September 2019, I have also been teaching English Literacy and Computing. In my spare time, I run a property management company providing quality and affordable shared accommodation for public sector employees such as teachers and NHS staff.
My latest venture is the launch of the Carib and Co Brunch, an events company. Our last event, on 28th June 2019 at The Geo Bar in Eastcote, was a successful evening of conversation, entertainment and Caribbean food. The brunch event came from my desire to combine entertainment with an opportunity to educate and empower my peers. The event was as an exquisite experience of food, fashion, poetry, music, comedy with a hint of financial education, mortgage education and empowerment.
The next Carib & Co Brunch is currently in the planning stages and takes place on 29 March 2020. Things are only set to get bigger and better with time, so keep an eye on @caribandcobrunch on Instagram.
How did you get involved in the Alumni of colour association?
During my time at LCC, we did not have anything like the alumni of colour association - so it was important for me to be involved in it to change the narrative. As soon as I heard about it, I emailed the Alumni team straight away to find out ways I can get involved. Last November I had the opportunity to share my story at the Alumni of Colour Showcase event. Not only did I get to share my story, but I also got the chance to network with other amazing alumni of colour, meet new friends, and inspire others. It also gave me an amazing platform to talk about my events and I gained loads of new Instagram followers that day. I also met people at the event who are now taking part in my upcoming event…
Carib and Co Brunch presents Women's Empowerment and Entertainment Network
Sunday 29th March 2020
4.30pm to 8.30pm
The Arc House in Harrow
My next charity event focuses on Women's Empowerment and Entertainment, celebrating Women's International Day in support of a local charity. We will centre around women in finance, poetry, film and music including workshops, presentations and panel discussions.
The event will support a local charity called Nomad - Nations of Migration, Awakening the Diaspora.
Among the many people that I met at the Alumni of Colour Showcase event, I will working with three incredible females who will be part of the line up. Female animator, Sherin Mahboob, who has worked on films such as Black Panther, The Avengers, Venom and more. Phèdre J. is an avant-garde footwear designer line crossing craftsmanship, fashion and sculpture Art - she will showcase her footwear collection through a fashion installation. Lastly, Nyasha Michelle, a Broadcast Journalist & Presenter at BBC will host the event.
Follow us in Instagram to find out more about the event! @caribandcobrunch