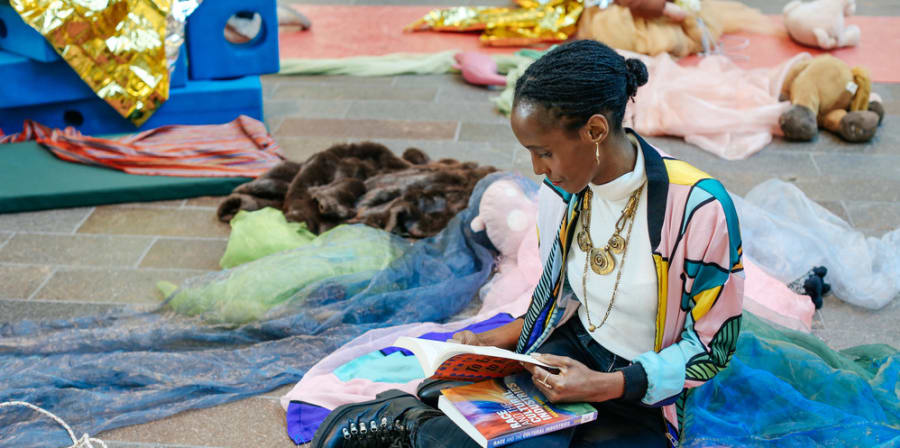 We're welcoming students onto campus.
Teaching and learning
We know it's important to know what your teaching experience will look like next year.
Over the past year, an enormous amount of work has taken place in designing the delivery of your course to give you the best possible learning opportunities. We've learnt what works best in different situations for different courses and different groups of students and we have developed innovative ways of doing things.
Engaging with the full mix of on-campus and online learning, will mean you have a comprehensive student experience at UAL.
We know from experience that things can change very rapidly, so we have plans in place just in case we have to adapt to further restrictions or other events.
If there are further lockdowns, we will move our teaching online, as we have done over the last year. We will continue to update you if there are any significant changes to the delivery of your course.
Spring term
It's essential you attend on site by Monday 10 January 2022 at the very latest – that's the start of spring term. Your Covid-Related Authorised Absence can't be extended beyond this date.
Can't attend by spring term

If you don't wish to join us on site by the deadline you must take a formal time out (partial year out). You'll break from your studies until the 2022/23 academic year. If you break before completing a unit or block, you may be asked to return at the start of that unit or block in autumn 2022.

Read our Student guide to taking time out (PDF 250KB) for details.

You must urgently contact your Programme Administration team (PDF 169KB) to notify them of your need to take a time out.

It's also essential you contact our Student Advice Service for time out guidance that's specific to your circumstances.
Xi'an and Yuzhou lockdown
Students affected by the lockdown in Xi'an and Yuzhou may study remotely for the first 2 weeks of the spring term.
We will continue to monitor the situation and this 2-week late arrival permission will be reviewed in January.
Please continue to check this page for further updates.
Accommodation
If you're looking for a place to live during your studies, remember our Accommodation Services team is there to help.
Whilst our halls of residence are full, we've put together a list of available rooms from trusted student accommodation providers within travelling distance of our Colleges. We can also provide guidance on renting privately.
Read our Accommodation advice for students arriving in January 2022.
Student visa and Tier 4 visa holders: important information about returning to campus
When your authorised absence has ended you must attend your studies on site. Check your timetable to find out when you're due on site and where to go.
You must attend on site because it's a condition of your visa. Your visa may be cancelled if you don't attend when expected.
What to do when you arrive in the UK
1. Within 48 hours of arrival you must email your Programme Administration team. In your email:
include your Student ID number and full name
confirm when you arrived in the UK
tell us if you need to quarantine.
2. Log in to your UAL Portal, go to my Enrolment(s) > my Study Details > Upload documents, then:
upload a photo or scanned copy of your boarding pass or e-ticket as evidence you've arrived in the UK. If you have a date stamped entry vignette you must also upload a photo or scanned copy of it.
update your term time address.
3. Attend on site when timetabled. Only attend once you've completed any required quarantine.
Study Abroad students
If you're an Integrated Study Abroad student or a Semester Study Abroad student you must participate in your programme from within the UK (unless your programme is fully online).
Postgraduate Research students (MPhil and PhD)
Because your study is self-directed and all mandatory elements are online, you'll only need to inform us of your need to take Covid-Related Authorised Absence if you require a visa to study with us. Notify us of your absence by emailing researchdegrees@arts.ac.uk.
If you're a visa holder you must arrive in the UK on or before Wednesday 6 April 2022 in order to comply with UK Visas and Immigration (UKVI) requirements.
If you have a query that is not answered here, you can: