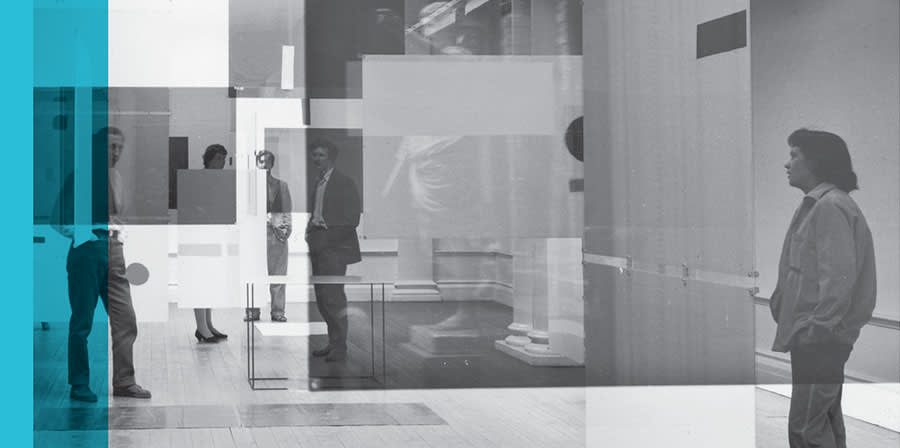 Founded in 1998 by Professors Charles Esche and Mark Lewis, Afterall became a UAL Research Centre in 2016.
Afterall focuses its research activities on the value of contemporary art and its relation to wider society. It specialises in 3 registers of art production and reception: the individual work; its exhibition or public display; and its dialogue with social, political and theoretical contexts. Based at Central Saint Martins, the research centre works with partners across 3 continents to deepen this enquiry and make it available through publications, digital access, conferences, screenings and talks. Afterall is closely linked to the MRes Art: Exhibition Studies pathway.
Publication and projects
Afterall Journal
Afterall is a journal of art, context and enquiry, launched in 1999. Afterall offers in-depth analysis of artists' work, along with essays that broaden the context in which to understand it. The journal is published by Central Saint Martins in partnership with M HKA, Antwerp. The John H. Daniels Faculty of Architecture, Landscape and Design, University of Toronto; and NTU Centre for Contemporary Art Singapore. It is distributed by the University of Chicago Press.
Afterall Website
Afterall makes selected journal articles freely available to all through afterall.org. It also features specially commissioned interviews with artists, contextual essays, reviews and video documentation of events.
One Work
The One Work series is a library of small books, each title focusing on one important work of contemporary art through a single text. Founded in partnership with The MIT Press. The series is distributed by MIT in both print and e-book format.
Exhibition Histories
Offering critical analysis of exhibitions of contemporary art that have changed the way art is seen and made, the Exhibition Histories series is published in association with Asia Art Archive, Center for Curatorial Studies, Bard College. Research undertaken for the series also informs the MRes Art: Exhibition Studies course we lead at Central Saint Martins. The series is distributed by Koenig Books.
Critical Readers
Our Critical Readers look at significant areas of modern and contemporary art practice through the commissioning and reprinting of a collection of key texts, artists' statements and manifestos.Titles have been published and distributed in collaboration with The MIT Press and Tate Publishing.
Arts Council England
Afterall is an Arts Council England National Portfolio Organisation.
Researchers and Editors
Amber Husain | Adeena Mey | David Morris | Lucy Steeds |
Project Manager and Editor
Chloe Ting
Project Coordinator
Camille Crichlow
Research Assistants
Bo Choy | Ella Lewis-Williams
Partners
Afterall is a founding member of the Common Practice advocacy group.
Current PhD Students
The Centre is closely linked to the MRes Art: Exhibition Studies pathway led by David Morris and Helena Vilalta.
We also support doctoral candidates and enquiries will be welcomed by Lucy Steeds.
Sasha Burkhanova: 'The (co-constitutive) ethics of a contemporary art curator: towards the modes of (ethical) practice'
Central Saint Martins, Supervised by Dr Joanne Morra and Dr Lucy Steeds.
John Kannenberg: 'Listening to Museums: Curating the Ephemeral Sonic Object'
London College of Communication, Supervised by Dr John Wynne, Professor David Toop and Dr Lucy Steeds
Jennifer Warren: 'Locating the Function of Theory in Public Programmes. The Case of MACBA'
Supervised by Dr Lucy Steeds and Dr Yaiza María Hernández Velázquez