UAL projects with the prison sector over the past decade have consistently demonstrated the potential for design and creativity to develop life skills, promote wellbeing and empower people within our most marginalised communities.
While UAL is a creative university, it is also a civic university, and understands its role in the local community. One of our objectives to widen participation in education and to support the principle of lifelong learning – understanding that learning is not confined to formal education, but takes place in lots of different life stages, experiences and situations.
This means that in addition to improving access to the creative arts in higher education, we work with other organisations and institutions to reach different parts of the local community, including those who are vulnerable.
Alongside Goldsmiths, UAL is part of Open Book, an initiative that has helped hundreds of socially excluded adults to find places at university - and many more to have life-changing learning experiences. The scheme supports those who are not in education, employment and training, and have faced multiple barriers, such as being involved in crime, experiencing substance misuse, poor mental health and homelessness.
Through research, design thinking and creative working, UAL engages with prison education to increase opportunities for prisoner resettlement and employment. Our prisons work is primarily led by the UAL Design Against Crime Research Centre (DACRC) led by UAL Professors Lorraine Gamman and Adam Thorpe; and our Making for Change programme at London College of Fashion, UAL led by Claire Swift. Many of our initiatives involve UAL students and graduates working successfully alongside or co-designing with prisoners, across prison design education research projects.
Making for Change
Established by the Ministry of Justice and London College of Fashion in 2014, Making for Change aims to increase wellbeing and reduce reoffending rates amongst participants by equipping them with professional skills and qualifications within a supportive environment.
Employment, when supported by appropriate education and training, is key to reducing reoffending in women, who make up just 5% of the prison population in the UK. There is a critical shortage of technical skills and knowledge in fashion manufacturing roles in London and the UK. Making for Change aims to grow this workforce by delivering industry recognised qualifications to women in prison and the community.
Making for Changes operates 2 fully-equipped workshops, delivering accredited vocational qualifications in Fashion and Textiles, simultaneously providing valuable work experience for the women. Both units produce client orders made to a high-quality industry standard, which includes up-cycled fashion garments, accessories and homeware.
Makeright
The first project in the world to engage prisoners in designing against crime, the award-winning Makeright programme led by the Design Against Crime team started at HMP Thameside in 2014–16, funded by AHRC with follow-on funding in 2017–2018 and investment by Serco.

Makeright teaches creative and analytical approaches associated with 'design-thinking' accessibly and visually. Inmates engage with self-reflection, self-organisation and ultimately, ideas about self-employment. Over 85 inmates at HMP Thameside have learned in a pragmatic and vocational context, producing a range of anti-theft bags sold by the fresh food supplier Abel & Cole, with profits given to the Sue Ryder charity.
From 2015 to 2017, 7 iterations of Makeright were delivered in the UK and India—adapting to another country's prison system through the award-winning knowledge exchange project with the National Institute of Design at Sabarmarti Central Jail. In 2019 Makeright ran at Doncaster prison where 170 prisoners benefited from the course, and over 40 UAL graduate design volunteers took part in a peer mentoring scheme - challenging their perceptions about life in prison and creating a mutually inclusive learning environment for the prisoners and graduates.
The work has shown that prisoners can engage strongly with design thinking and collaborative design practices, and benefit long-term from these skills. Makeright inspired former offender and founder of Stretch, Carlotta Allum, to apply to UAL to undertake a PhD on the role of storytelling and digital design in changing prisoners' lives.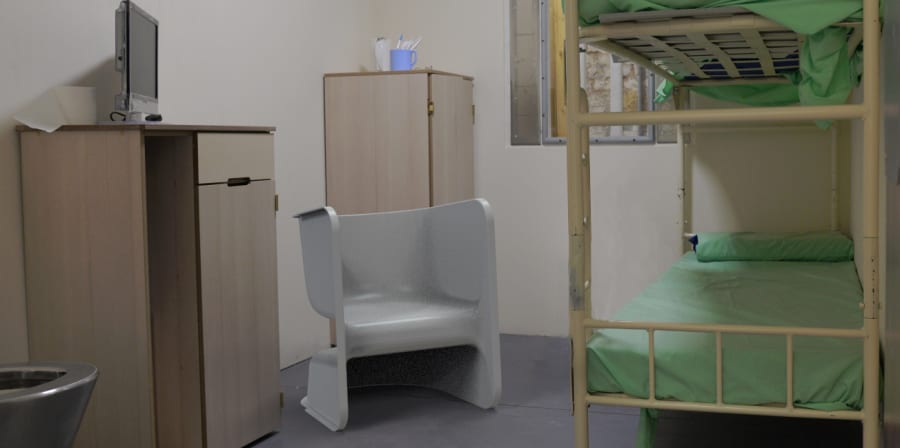 Cell Furniture project (2018-2020)
Before the pandemic, students from Central Saint Martins BA Product Design course worked under the guidance of academics from the Design Against Crime research centre on a project to reimagine prison cell furniture, designing it to be not only robust and sustainable, but with the wellbeing of prisoners in mind – and resistant to vandalism and self-harm. To research, test and showcase their designs the students used a replica prison cell – and invited a wide audience of public and industry visitors to their final degree show, to step inside the cell where they could see and interact with the furniture prototypes in situ.
One of the products, the Flip Chair, co-designed with prisoners, is to go into production for use by the Ministry of Justice nationally. Engineered as a single injection moulded part, the chair can be manufactured cheaply as one solid object and provides two seat height options. Prisoners' and HMP staff insights informed the design, and 2 prisoners at HMP Standford Hill who worked with the team have been employed on the Makeright project since 2020.
Restoring empathy and opportunity
There is a particularly transformative value in creative education for adults who have faced hardship and barriers – because art, design, making and creativity are known to enhance people's mental health, empowerment and opportunities. Creative education can be extremely significant to neurodiverse individuals who do not do well with traditional forms of education. In such cases, it can support mental wellbeing as well as social mobility.
Research by the DACRC leads international thinking around how design and creativity can create positive change for people who have previously been marginalised. A 2015 research paper co-authored by UAL Professors Lorraine Gamman and Adam Thorpe, Could Design Help to Promote and Build Empathic Processes in Prison? explores how engagement with design can contribute to restoring empathy in prisoners.
Gamman and Thorpe's Design Thinking for Prison Industries (AHRC, 2014–2015) drew on theory from criminology, entrepreneurship, social psychology and participatory design research approaches to develop creative tools. Recognising the disconnection between 'educational' and 'work' experiences in prisons—typically delivered separately—this project explored whether design engagement with prison industries could use creative techniques to bridge this gap, build empathy and offer new opportunities for entrepreneurship that could aid self-employment.
Gamman and Thorpe's 2019 paper in Crime & Consequence - What Should Happen to People Who Commit Criminal Offences? examined the potential relationship between 'making it'—succeeding after leaving prison—and 'making' in prison. Believing that a pedagogic shift was necessary to facilitate more 'learning through doing' within the criminal justice system, as well as outside it, the work considered what mechanisms and initiatives might support the creation of positive opportunities both inside and outside the prison environment.
Reinventing prison education
Our partnerships with prisons include HMP Brixton, HMP Downview, HMP Send, HMP Thameside, HMP Doncaster, HMP Isis and HMP Stanford Hill. A key national relationship is with the Ministry of Justice and other national partners include National Offender Management Service, and HM Prison Service Business Development Unit. Local government partners include the Greater London Authority and Poplar HARCA Housing Association. Specialist recruitment agency, Working Chance, is a long-term supporter, delivering industry engagement days in the Making for Change unit.
The impact on prisoners includes improved communication skills, entrepreneurship techniques and restorative making and design thinking skills. The work generates more positive behaviours and attitudes, with those taking part often moving from self-absorption to empathy and concern for others; learning to collaborate; understanding the benefits of education; how reflection and iteration lead to improvement.
Primarily, these projects use creativity to make positive social impact on the lives of individual prisoners during their sentence. The long-term aim is to build skills and resilience, reducing the likelihood of re-offending. The work demonstrates the value of arts education in prison and in the national context because it can powerfully incentivise change. It not only benefits inmates, ex-offenders, students and graduates, but has a lasting influence on national and international thinking about prison education and employment.
Over the coming decade, UAL will continue to work alongside communities. Our commitment to social justice and widening participation calls on us to continue to improve ways for vulnerable individuals and local communities to access learning. Ultimately we recognise that the UK needs to upskill its population and remove ever increasing barriers to social mobility, particularly with deepening levels of inequality brought by the global pandemic.